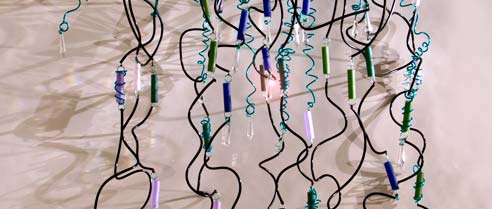 Susan Bloch 866-358-5295
Glass Wall Art
Inspired by nature and perception, I create sculpture using glass with mixed media including metal, leds, and wood. The mobile detail to the left is a public sculpture for the Creamery District, a thriving arts district in Arcata, Ca. The lighted wall art shown below, titled "New York Resilience" is dedicated to New Yorkers and their humanity. This aluminum, light and glass sculpture was exhibited during Glassfest New York 2011 and displayed in the Houghton Gallery, Corning, NY.
sbw at blochstudio.com

Sign up for our free newsletter!
Be the first to know of studio events, sales of special items only available
to select collectors
Multi-layered mixed-media & Glass
I look for ways to create links to the intangible, using glass to as a window to look inside and out, interpreting the sensations of the heart, soul and spirit. The miracle and mystery around us is a constant source of inspiration. I find it magical to combine and contrast the luminosity, fragility and reflective qualities of glass with varied materials .